1. The National Lead Poisoning Prevention Week of Action Campaign(NLPPW).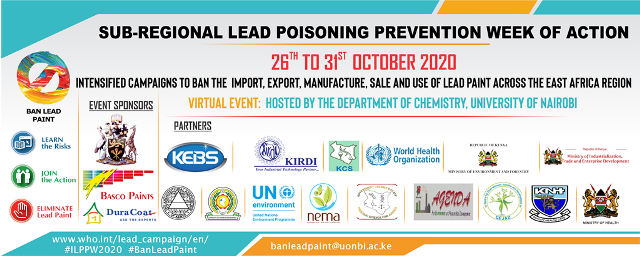 NLPPW is a National annual event carried out by the Department of Chemistry University of Nairobi, Basco paints, KEBS with several other partners to  increase lead poisoning prevention awareness in an effort to reduce childhood exposure to lead
Even though there is wide recognition of the harmful effects of lead and many countries have taken action, exposure to lead, particularly in childhood, remains of key concern to health care providers and public health officials worldwide. 
An important source of lead exposure, particularly in children, is paint containing high levels of lead. These paints are still widely available and used in many countries for decorative purposes in homes, schools and on playground equipment, although good alternative paints without added lead are available.
The aim of International Lead Poisoning Prevention Week is to draw attention to the health impacts of lead exposure, highlight efforts by countries and partners to prevent childhood lead exposure, and accelerate efforts to phase out the use of lead in paint. 
The sub-regional Event sponsors are University of Nairobi, Basco Paints, Dura Coat and the  partners in this campaign includes; KEBS, The Architectural  Association of Kenya, UNEP, KIRDI, NEMA, Ministry of Environment & Forestry, Ministry Health, World Health Organization and many other Partners.