Home
Participants attentive during Pan African Congress Network Conference 2015 in Chiromo Campus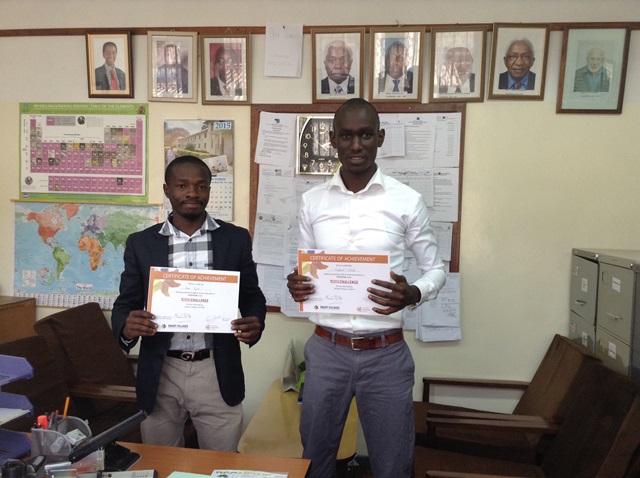 DAR ENTERPRISE COURSE AND SMART VILLAGES ENERGY COMPETITION
Our Students won energy innovation challenge
UNESCO Award to Prof. Shem Wandiga
Prof. Shem Wandiga was awarded UNESCO's medal for "outstanding contribution to development of nanoscience and nanotechnologies"
51st Graduation - August 29, 2014
Ndaru, Elias Kivuti best over all University of Nairobi student
GSK and Save the Children Healthcare Innovation Award
Dr. Benson Wamalwa Innovation was awarded as one of four winners of GSK and Save the Children Health Care Innovation Award.
Latest News in Chemistry Department
The Kenya Chemical Society - Nairobi Chapter
KCS Nairobi Chapter Symposium
23rd April 2016, 08:30 – 14:00
Venue: USIU-A, LT4 - Science Centre
Theme "Chemistry for Sustainable Development"
Location
Midrand Conference Centre, South Africa
Read More....
Inorganic Chemistry is the mother chemistry; it is the rest of chemistry after the split of organic, physical, analytical, pharmaceutical etc, chemistry disciplines. While there are no clear cut boundaries of inorganic and the other chemistry disciplines, the main stream inorganic chemistry feeds into these disciplines of chemistry as well as other sciences. It is mainly concerned with the study of the synthesis, structure and behaviour of chemical compounds, including element behaviour, resulting in the build up of the periodic table.

Location
School of Physical Sciences Boardroom -CBPS-University of Nairobi
Read More....