Mentorship in the Department of Chemistry
UoN, Uppsala Conference Discuss Application of Inorganic Chemistry in Development, Environmental Management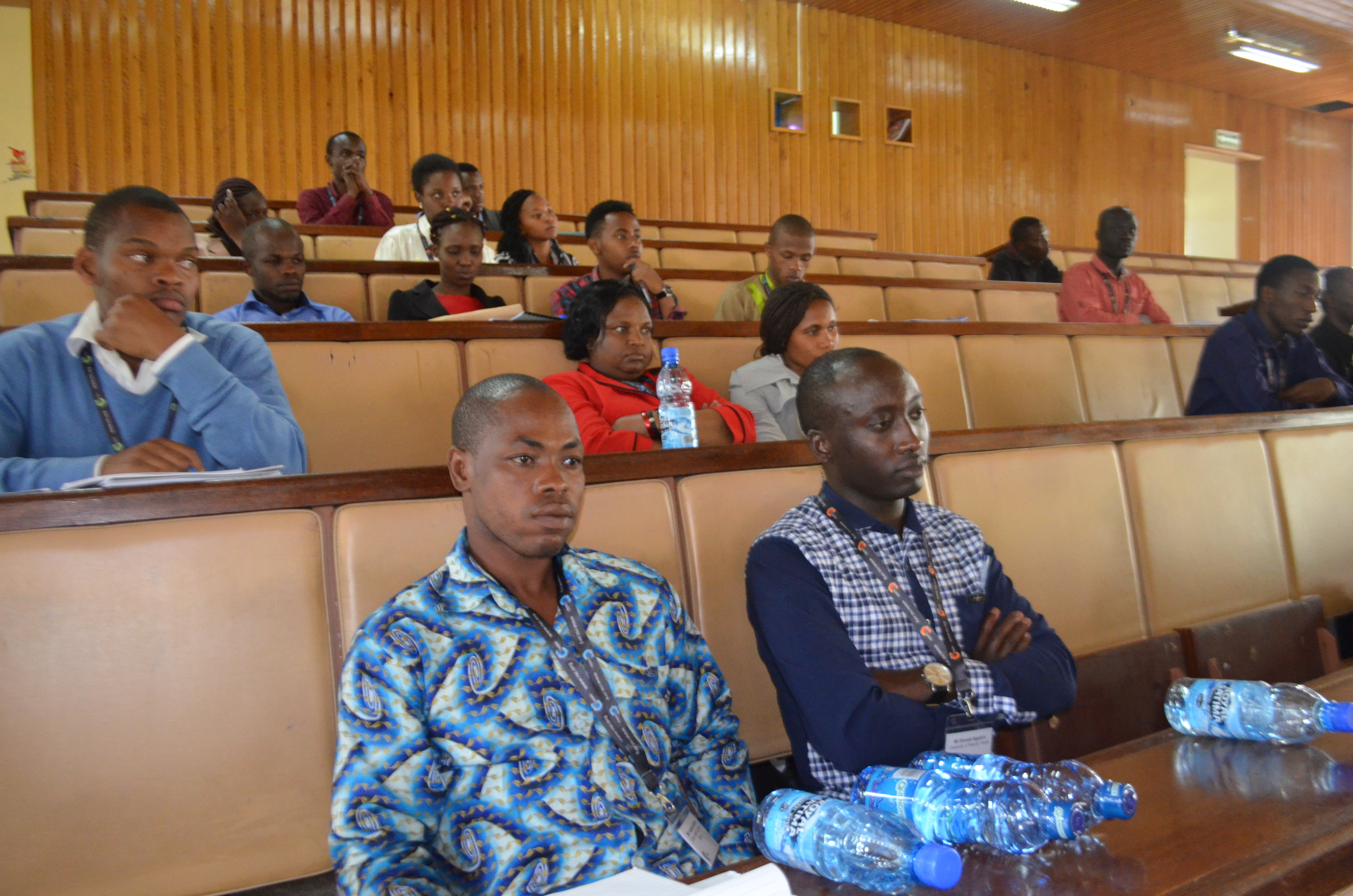 Sustainable Water Resources for Africa - Pan Africa Chemistry Network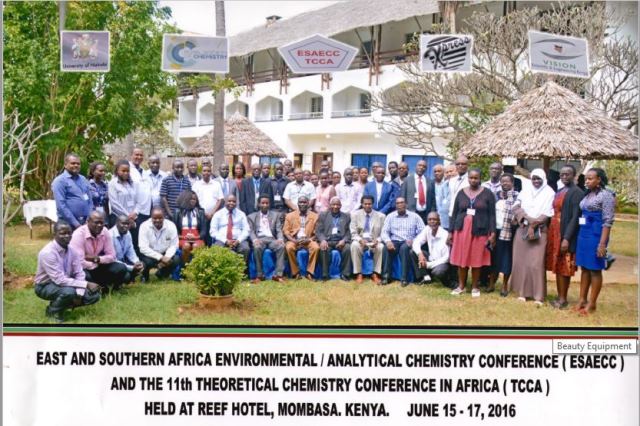 Group Photo of the ESAECC and 11th TCCA, June 15-17, Reef Hotel Mombassa
Group Photo of ESAESS and TCIC conference Conference-Reef Hotel-June 15-17.JPG
NATIONAL WORKSHOP ON THE OVERVIEW OF TRENDS IN TEACHING AND RESEARCH IN INORGANIC CHEMISTRY AND ITS APPLICATIONS IN KENYA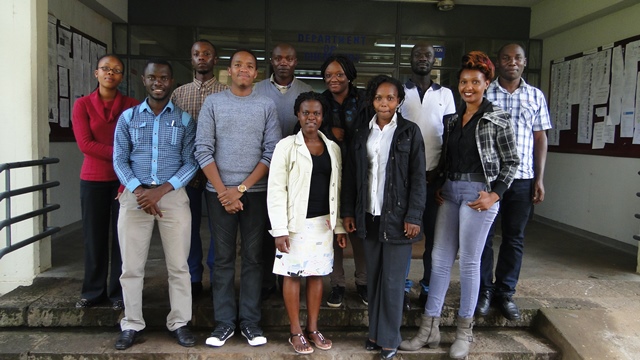 MSc class of 2015-16 with PhD students Moses Andima and Richard Oriko
College holds Research Writing Workshop
Participants During Research Writing Workshop
PACN Conference Invited Guest
Exploring Kenyan Biodiversity: Chemistry, Pharmacology and Commercialization
Submitted by sderese on Wed, 2017-04-19 18:06
Location / Venue:
Great Rift Valley Lodge, Naivasha, Kenya
Introduction
Under the Researcher Links scheme offered within the Newton Utafiti Fund, the British Council and the National Research Fund will be holding a workshop on the above theme in Nairobi on 10-14 September 2017. The workshop is being coordinated by the University of Nairobi (Kenya) and the University of Surrey (UK) and will have contributions from other leading researchers. We are now inviting Early Career Researchers from Kenya and the UK to apply to attend this workshop. The Workshop Leaders and Mentors are prominent leaders in their fields of natural products chemistry, pharmacology, business, and health and safety in research. All travel and accommodation expenses will be covered by the Newton Researcher Links programme. The application form is attached and should be sent to l.bennett@surrey.ac.uk before the deadline of 5 May 2017. The programme, 'British Council Researcher Links', provides opportunities for early career researchers from the UK and internationally to interact, learn from each other and explore opportunities for building long-lasting research collaborations.
The workshop will provide a unique opportunity for sharing research expertise and networking. Early career researchers will have the opportunity to present their research in the form of a poster and discuss this with established researchers from Kenya and the UK. There will be a focus on building links for future collaborations, and participants will be selected on the basis of their research potential and ability to build longer term links.
The British Council and National Research Fund will cover the costs related to the participation at the workshop, including: travel (both international and local), accommodation and meals. Visa costs will be covered; however participants will be responsible for making all the necessary arrangements. Participants are encouraged to purchase an adequate travel and medical insurance, although this cost will not be covered. The British Council accepts no responsibility for any problems which may occur when the participants are in-country.
Workshop Aim
The workshop's main aim is the modernization of natural products research in Kenya. Individual workshops will focus on the identification of compounds through the use of NMR experiments and predictive software, and current compound screening methods including high throughput screening. Health & Safety practices and product commercialization will also be discussed.
Venue and Location
The workshop will take place from Sunday 10th to Thursday 14th September, 2017. The venue will be the Great Rift Valley Lodge, www.heritage-eastafrica.com, a two hour drive from Nairobi airport. Transport will be provided from Nairobi.
Who should apply?
We are seeking applications from motivated Early Career Researchers. We are hoping to invite a total of 30 ECRs from the two countries. (Early career is defined as being a PhD holder + up to 10 years. Consideration will be given to researchers who completed their PhD more than 10 years previously but had breaks in their careers. For those fields where a PhD is not a usual career requirement, sufficient research experience will be accepted.)
Participants must have a research or academic position (a permanent post, research contract, or fellowship etc.) at a recognised research institution either in Kenya or in the UK
Application Method
Please complete the attached application form, including an abstract for your presentation, a justification of why you should be chosen to attend and a one page CV. (Application deadline: 5th May 2017). Applications to l.bennett@surrey.ac.uk
If there are spare places, senior PhD students may be invited.
Please click here to download the application form.