PACN Conference Invited Guest
Presentation during PACN Conference
Participants attentive during Pan African Congress Network Conference 2015 in Chiromo Campus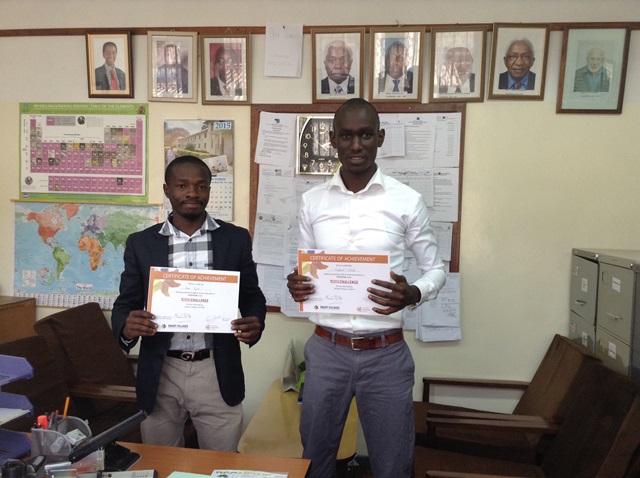 DAR ENTERPRISE COURSE AND SMART VILLAGES ENERGY COMPETITION
Our Students won energy innovation challenge
UNESCO Award to Prof. Shem Wandiga
Prof. Shem Wandiga was awarded UNESCO's medal for "outstanding contribution to development of nanoscience and nanotechnologies"
51st Graduation - August 29, 2014
Ndaru, Elias Kivuti best over all University of Nairobi student
GSK and Save the Children Healthcare Innovation Award
Dr. Benson Wamalwa Innovation was awarded as one of four winners of GSK and Save the Children Health Care Innovation Award.
Message from the Head of Department
The Department of Chemistry is in the School of Physical Sciences, College of Biological and Physical Sciences. It handles about 1800 undergraduate students each academic year and about thirty (30) Master of Science and eight (4) Ph.D students each year. These students are handled by 47 academic members of staff in the areas of Physical, Organic, Inorganic, Environmental, Analytical and Industrial Chemistry.
The Department offers the following undergraduate programmes: Bachelor of Science in Chemistry, Bachelor of Science in Environmental Chemistry, Bachelor of Science in Industrial Chemistry and Bachelor of Science in Analytical Chemistry. In addition, the Department also services various schools and faculties as follows: Agriculture, Design, Engineering, Medicine and Pharmacy.
We also offer postgraduate programmes leading to Master of Science in Chemistry, Master of Science in Industrial Chemistry, Master of Science in Analytical Chemistry, Master of Science in Organic Chemistry, Master of Science in Inorganic Chemistry and Master of Science in Environmental Chemistry. Undergraduate programmes are offered during the day only while MSc programmes are offered during both day and evening. Evening classes are conducted from Monday to Friday from 5:30PM to 8:30PM and 8:00AM to 5:00PM on Saturday.
The Department is in possession the following pieces of equipment which has made research possible: 400MHz Nuclear Magnetic Resonance (NMR), Infrared Spectrophotometer (IR), Gas-Chromatograph (GC), Gas Chromatograph-Mass Spectrometer (GC-MS), HPLC, Atomic Absorption Spectrometer (AAS), Flame Photometer, UV/Vis Spectrophotometer and X-ray diffractometer.
As part of income generating activities, the Department engages in the following consultancies:
Chemical Processes and Technologies, Pollution and Environmental Control and Monitoring, Quality Assurance and Specialized Laboratory Analysis, Domestic water analysis (BOD, COD, chloride, fluoride, sulphate, phosphate, total suspended solids, total dissolved solids, E-coli, metal ion), waste water analysis, impact assessment studies, pesticide analyses, fire disaster analysis just to mention a few. Detergents and shampoos are also manufactured for sale to clients both within and without. In addition we also train clients at a fee on how these products can be prepared.
For details contact: dept-chem@uonbi.ac.ke or jonyari@uonbi.ac.ke
Head of Department
PROF. John Onyari