UoN, Uppsala Conference Discuss Application of Inorganic Chemistry in Development, Environmental Management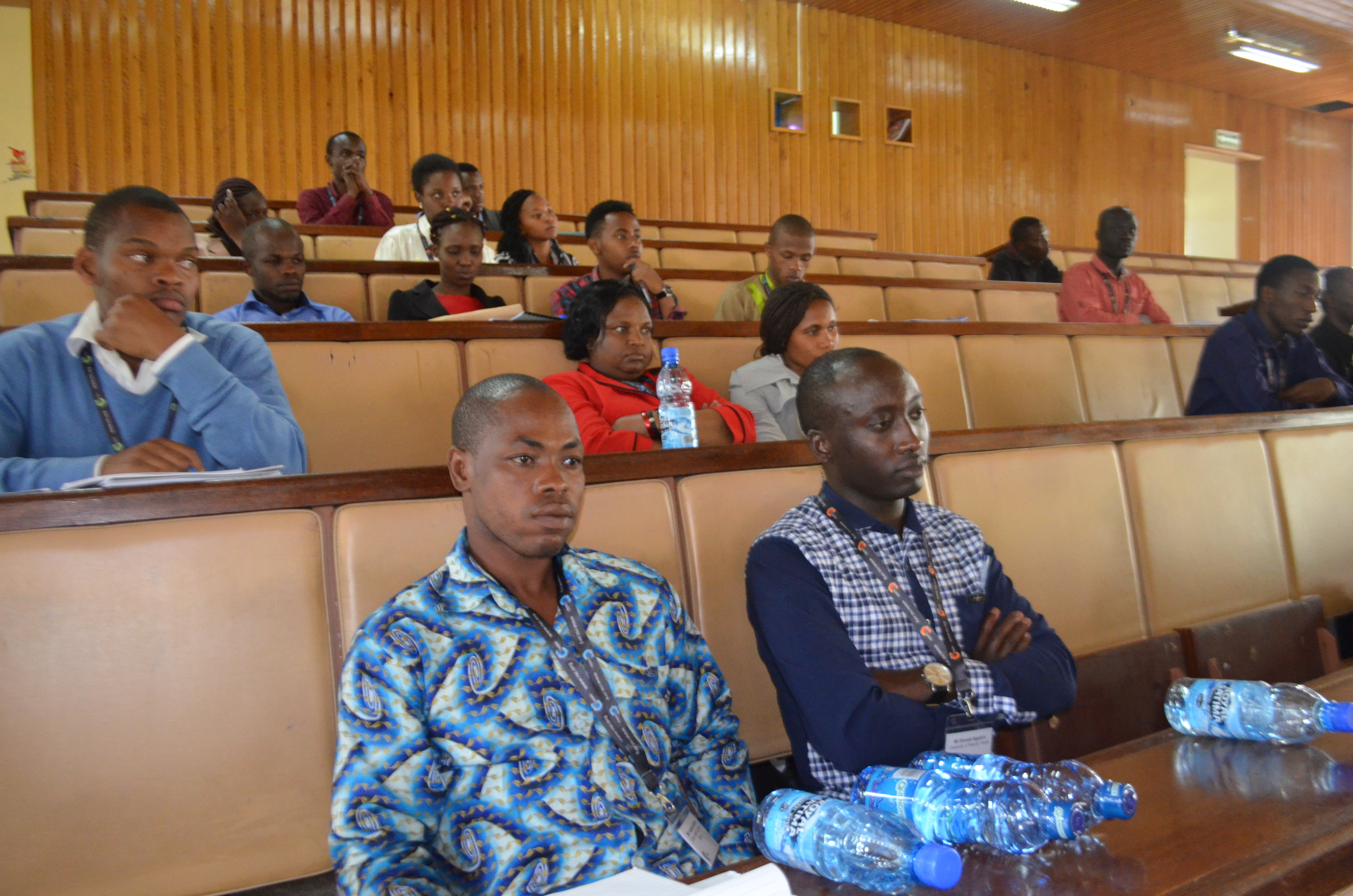 Sustainable Water Resources for Africa - Pan Africa Chemistry Network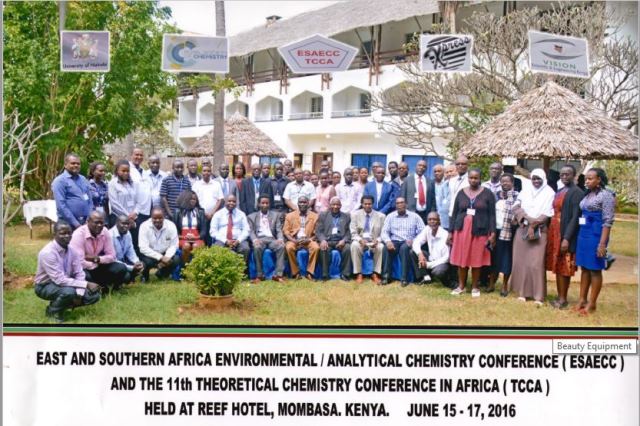 Group Photo of the ESAECC and 11th TCCA, June 15-17, Reef Hotel Mombassa
Group Photo of ESAESS and TCIC conference Conference-Reef Hotel-June 15-17.JPG
NATIONAL WORKSHOP ON THE OVERVIEW OF TRENDS IN TEACHING AND RESEARCH IN INORGANIC CHEMISTRY AND ITS APPLICATIONS IN KENYA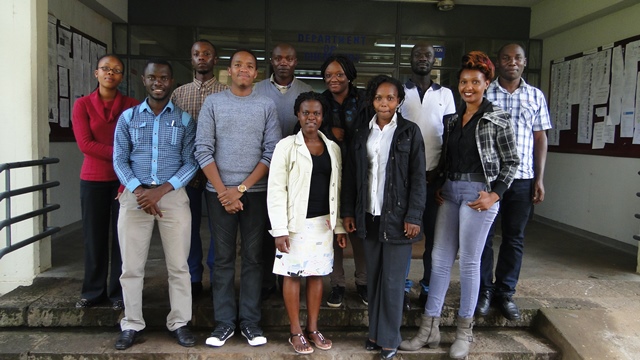 MSc class of 2015-16 with PhD students Moses Andima and Richard Oriko
College holds Research Writing Workshop
Participants During Research Writing Workshop
PACN Conference Invited Guest
B.Sc INDUSTRIAL CHEMISTRY
Introduction
Industrial Chemistry is the branch of chemistry which applies physical and chemical processes towards the transformation of raw materials into products that are of benefit to humanity. The goal of the Bachelor of Science in Industrial Chemistry degree programme is to produce graduates who will be highly skilled in this activity. We do this by first giving the students a strong foundation in chemistry, mathematics and physics. The Industrial Chemistry graduate is a chemist with knowledge linkages in engineering, chemical processing, economics and industrial management.
Career Opportunities
Graduates find employment in government departments, parastatals, research and development institutes, production, biotechnology, quality control, pharmaceutical industry, process industry, fertilizer production industry, plastics industry, pulp and paper industry, tanning industry, consumer industry, oil and petroleum industry, textile industry, dyes and paints industry, cosmetics industry, cement industry, glass industry, water purification and wastewater purification engineering just to name a few.
Courses
| Title | Course Code | Course Hours | Semester | Year |
| --- | --- | --- | --- | --- |
| Communication Skills | CCS 001 | 45 | | 1 |
| Elements of Economics | CCS 009 | 45 | | 1 |
| HIV and AIDS | CCS 010 | 45 | | 1 |
| Safety Methods in the Laboratory | SCA 101 | 45 | | 1 |
| General and Inorganic Chemistry | SCH 101 | 45 | | 1 |
| Introduction to Organic Chemistry, Chemistry of Alkanes and Cycloalkanes | SCH 102 | 45 | | 1 |
| General and Physical Chemistry | SCH 103 | 45 | | 1 |
| Elements of Physics I | SCI 101 | 45 | | 1 |
| Foundations of Computer Science | SCI 104 | 45 | | 1 |
| Basic Mathematics | SMA 101 | 45 | | 1 |
| Calculus I | SMA 103 | 45 | | 1 |
| Calculus II | SMA 104 | 45 | | 1 |
| Quantitative Analysis | SCA 201 | 45 | | 2 |
| Introduction to Environmental Chemistry | SCE 201 | 45 | | 2 |
| Chemistry of the Main Block Elements | SCH 201 | 45 | | 2 |
| The Chemistry of Alkyl Halides, Alcohols, Ethers Alkenes, Alkynes and Aromatic Compounds | SCH 202 | 45 | | 2 |
| Thermodynamics I and Thermochemistry | SCH 203 | 45 | | 2 |
| Introduction to Reaction Kinetics and Electrochemistry | SCH 204 | 45 | | 2 |
| Group Theory and its Chemical Applications | SCH 205 | 45 | | 2 |
| Organic Acids, Amines, Esters and Phenols | SCH 206 | 45 | | 2 |
| Introduction to unit operations | SCI 202 | 45 | | 2 |
| Elements of Physics (II) | SCI 203 | 45 | | 2 |
| Technical Drawing | SCI 204 | 45 | | 2 |
| Ordinary Differential Equations | SMA 208 | 45 | | 2 |
| Elements of Algebra | SMA 209 | 45 | | 2 |
| Statistics for Chemist | SCA 305 | 45 | | 3 |
| Agro-based industries And Industrial Processes | SCI 306 | 45 | | 3 |
| Instrumental Methods of Analysis I | SCA 301 | 45 | | 3 |
| Theory of Spectroscopy | SCH 301 | 45 | | 3 |
| Stereochemistry and Synthesis of Organic Compounds | SCH 302 | 45 | | 3 |
| Thermodynamics II and Phase Equilibria | SCH 303 | 45 | | 3 |
| Coordination Chemistry | SCH 304 | 45 | | 3 |
| Amino acids, Peptides, Proteins, Carbohydrates and Nucleic acids | SCH 305 | 45 | | 3 |
| Fluid flow, Heat and Mass transfer | SCI 301 | 45 | | 3 |
| Material and Energy Balance | SCI 302 | 45 | | 3 |
| Biotechnology | SCI 303 | 45 | | 3 |
| Basic Industrial Chemicals | SCI 304 | 45 | | 3 |
| Formulation Chemistry and Technology | SCI 305 | 45 | | 3 |
| Hazardous Waste Management | SCE 407 | 45 | | 4 |
| Chemistry of Transition Elements | SCH 401 | 45 | | 4 |
| Heterocyclic Chemistry | SCH 402 | 45 | | 4 |
| Surface and Colloid Chemistry | SCH 403 | 45 | | 4 |
| Organometallic Chemistry | SCH 404 | 45 | | 4 |
| Further Chemical Kinetics and Electrochemistry | SCH 405 | 45 | | 4 |
| Reactor Design | SCI 401 | 45 | | 4 |
| Unit processes in Organic Synthesis | SCI 402 | 45 | | 4 |
| Entrepreneurship and Business Management | SCI 403 | 45 | | 4 |
| Petroleum and Polymer Processing | SCI 404 | 45 | | 4 |
| Fine chemicals for pharmaceuticals | SCI 405 | 45 | | 4 |
| Materials Science | SCI 406 | 45 | | 4 |
| Research Project in Industrial Chemistry | SCI 407 | 45 | | 4 |