Presentation during PACN Conference
Participants attentive during Pan African Congress Network Conference 2015 in Chiromo Campus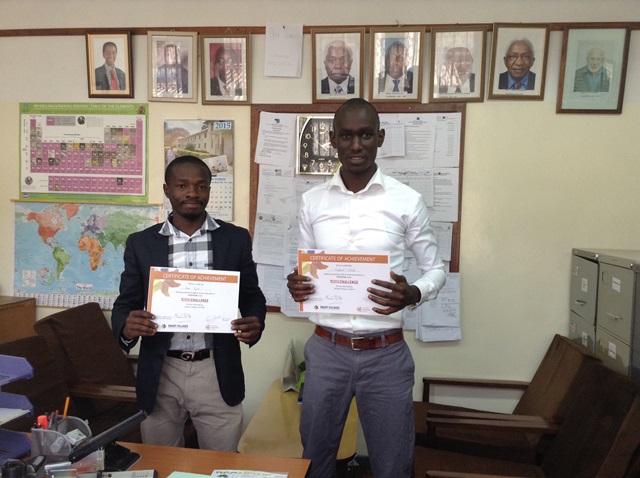 DAR ENTERPRISE COURSE AND SMART VILLAGES ENERGY COMPETITION
Our Students won energy innovation challenge
UNESCO Award to Prof. Shem Wandiga
Prof. Shem Wandiga was awarded UNESCO's medal for "outstanding contribution to development of nanoscience and nanotechnologies"
51st Graduation - August 29, 2014
Ndaru, Elias Kivuti best over all University of Nairobi student
GSK and Save the Children Healthcare Innovation Award
Dr. Benson Wamalwa Innovation was awarded as one of four winners of GSK and Save the Children Health Care Innovation Award.
University of Nairobi Peer Mentors Club
A significant number of our students are in need of mentorship in order to achieve their potential. There is particularly a need for peer mentorship so that students can learn from the mistakes and achievements of their peers. Currently we do not have an organized peer mentorship program at University of Nairobi entirely. In order to fill this gap, we started the University of Nairobi Students Peer Mentors Speakers Club (referred to here after as UoN-PMC) in April 2015. One of the objectives of the club is to help first year students successfully transit to university life and follow up on their stay and progress in campus sticking them to their ambitions. The ultimate goal of the club is to change young people profoundly on an emotional and/or mental level and to help them make some kind of professional or personal changes in their life and within themselves. Peer Mentor Club is established for the expressed purpose of serving students by offering access to peer mentor services with the hope of improving academic performance of individual students, university retention rates, and the university's overall atmosphere.
Image galley of round one mentorship program