Presentation during PACN Conference
Participants attentive during Pan African Congress Network Conference 2015 in Chiromo Campus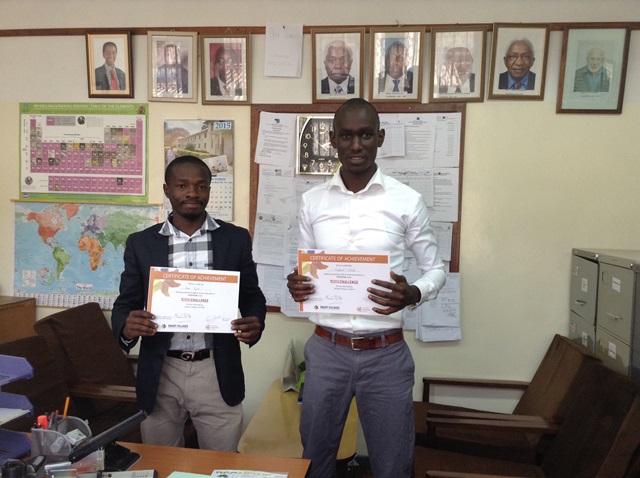 DAR ENTERPRISE COURSE AND SMART VILLAGES ENERGY COMPETITION
Our Students won energy innovation challenge
UNESCO Award to Prof. Shem Wandiga
Prof. Shem Wandiga was awarded UNESCO's medal for "outstanding contribution to development of nanoscience and nanotechnologies"
51st Graduation - August 29, 2014
Ndaru, Elias Kivuti best over all University of Nairobi student
GSK and Save the Children Healthcare Innovation Award
Dr. Benson Wamalwa Innovation was awarded as one of four winners of GSK and Save the Children Health Care Innovation Award.
THE THIRD AND FINAL ANOUNCEMENT AND CALL FOR ABSTRACTS
Submitted by sderese on Tue, 2016-05-17 11:15
Location / Venue:
Reef Hotel, Mombasa, Kenya
THE THIRD AND FINAL ANOUNCEMENT AND CALL FOR ABSTRACTS
ESAECC-TCCA
EAST AND SOUTHERN AFRICA ENVIRONMENTAL/ANALYTICAL
CHEMISTRY CONFERENCE
AND
THE 11TH THEORETICAL CHEMISTRY CONFERENCE IN AFRICA (TCCA)
VENUE: Reef Hotel, Mombasa, Kenya
DATES: June 15 - 17, 2016
THEME
CHEMISTRY FOR DEVELOPMENT, SAFETY, SECURITY AND
INDUSTRIALIZATION IN AFRICA
Background
TCCA is reaching the 11th conference, a milestone to celebrate and reckon with. ESAECC has been conducted jointly with TCCA for a number of years. The joint conferences have attracted researchers from Africa and beyond and provided ideal ground for exchanges of ideas and experiences in Sciences and Technology.
The major objectives of the joint conferences are the following:
To bring together African scientists to exchange ideas and research results in the fields of theoretical/computational chemistry and of environmental/Analytical chemistry.
To promote research capacity building for theoretical/computational chemistry, as a scarce skill area in the continent.
To foster collaboration among African scientists and between African scientists and scientists from other continents.
Click here to download the program