Mentorship in the Department of Chemistry
UoN, Uppsala Conference Discuss Application of Inorganic Chemistry in Development, Environmental Management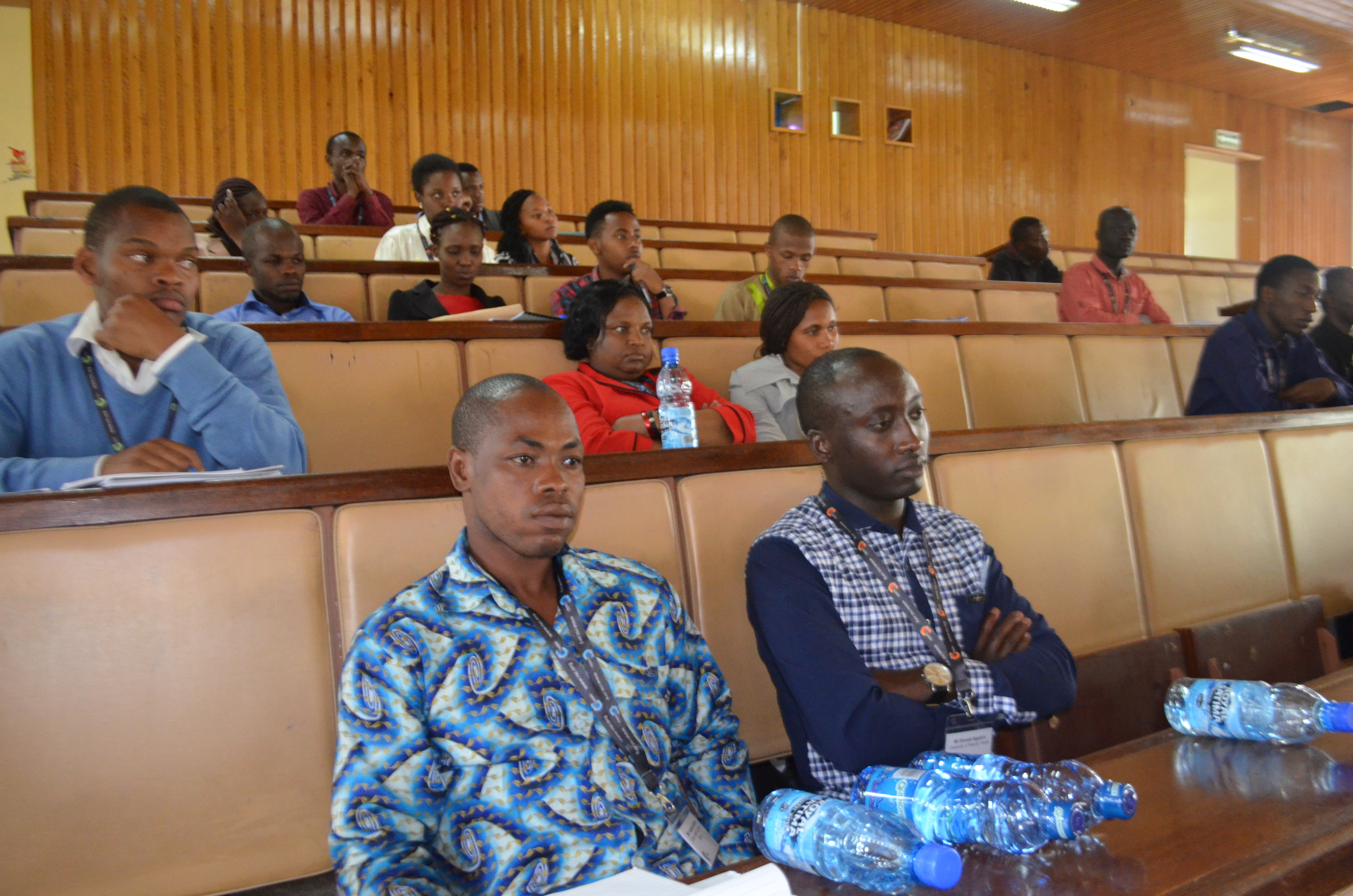 Sustainable Water Resources for Africa - Pan Africa Chemistry Network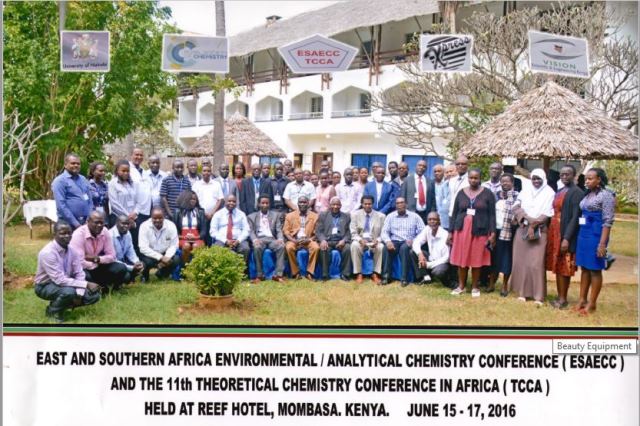 Group Photo of the ESAECC and 11th TCCA, June 15-17, Reef Hotel Mombassa
Group Photo of ESAESS and TCIC conference Conference-Reef Hotel-June 15-17.JPG
NATIONAL WORKSHOP ON THE OVERVIEW OF TRENDS IN TEACHING AND RESEARCH IN INORGANIC CHEMISTRY AND ITS APPLICATIONS IN KENYA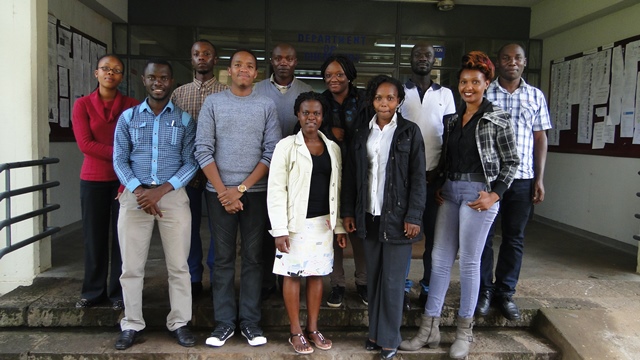 MSc class of 2015-16 with PhD students Moses Andima and Richard Oriko
College holds Research Writing Workshop
Participants During Research Writing Workshop
PACN Conference Invited Guest
Basic Principles of Organic Chemistry, second edition
---
Basic Principles of Organic Chemistry, second edition
Roberts, John D. and Caserio, Marjorie C. (1977) Basic Principles of Organic Chemistry, second edition. W. A. Benjamin, Inc. , Menlo Park, CA. ISBN 0-8053-8329-8
UASGE POLICY: You are granted permission for individual, educational, research and non-commercial reproduction, distribution, display and performance of this work in any format.
---
---
CHAPTER ONE - INTRODUCTION. WHAT IS ORGANIC CHEMISTRY ALL ABOUT?
---
CHAPTER TWO - STRUCTURAL ORGANIC CHEMISTRY. THE SHAPES OF MOLECULES. FUNCTIONAL GROUPS
---
CHAPTER THREE- ORGANIC NOMENCLATURE
---
---
CHAPTER FIVE - STEREOISOMERISM OF ORGANIC MOLECULES
---
CHAPTER SIX - BONDING IN ORGANIC MOLECULES. ATOMIC-ORBITAL MODELS
---
CHAPTER SEVEN - MORE ON NOMENCLATURE. COMPOUNDS OTHER THAN
HYDROCARBONS
---
CHAPTER EIGHT - NUCLEOPHILIC SUBSTITUTION AND ELIMINATION REACTIONS
---
CHAPTER NINE - SEPARATION AND PURIFICATION. IDENTIFICATION OF ORGANIC
COMPOUNDS BY SPECTROSCOPIC TECHNIQUES
---
CHAPTER TEN - ALKENES AND ALKYNES I. IONIC AND RADICAL ADDITION
REACTIONS
---
CHAPTER ELEVEN - ALKENES AND ALKYNES II. OXIDATION AND REDUCTION
REACTIONS. ACIDITY OR ALKYNES
---
CHAPTER TWELVE - CYCLOALKANES, CYCLOALKENES, AND CYCLOALKYNES
---
CHAPTER THIRTEEN - POLYFUNCTIONAL COMPOUNDS. ALKADIENES. APPROACHES
---
CHAPTER FOURTEEN - ORGANOHALOGEN AND ORGANOMETALLIC COMPOUNDS
---
CHAPTER FIFTEEN - ALCOHOLS AND ETHERS TO ORGANIC SYNTHESIS
---
CHAPTER SIXTEEN - CARBONYL COMPOUNDS I. ALDEHYDES AND KETONES.
ADDITION REACTIONS OF THE CARBONYL GROUP
---
CHAPTER SEVENTEEN - CARBONYL COMPOUNDS II. ENOLS AND ENOLATE ANIONS.
---
CHAPTER EIGHTEEN - CARBOXYLIC ACIDS AND THEIR DERIVATIVES
---
CHAPTER NINETEEN - MORE ON STEREOCHEMISTRY
---
CHAPTER TWENTY - CARBOHYDRATES
---
CHAPTER TWENTY ONE - THE RESONANCE AND MOLECULAR-ORBITAL METHODS AND THEIR APPLICATIONS. PERlCYCLlC REACTIONS UNSATURATED AND POLYCARBONYL COMPOUNDS
---
CHAPTER TWENTY TWO - ARENES. ELECTROPHILIC AROMATIC SUBSTITUTION
---
CHAPTER TWENTY THREE - ORGANONITROGEN COMPOUNDS I. AMINES
---
CHAPTER TWENTY FOUR - ORGANONITROGEN COMPOUNDS II. AMIDES, NITRILES, NITRO COMPOUNDS, AND SOME SUBSTANCES WITH N-N BONDS
---
CHAPTER TWENTY FIVE - AMINO ACID, PEPTIDES, PROTEINS, ENZYMES,
AND NUCLEIC ACIDS
---
CHAPTER TWENTY SIX - MORE ON AROMATIC COMPOUNDS. ARYL OXYGEN
COMPOUNDS; SIDE-CHAIN DERIVATIVES
---
CHAPTER TWENTY SEVEN - MORE ABOUT SPECTROSCOPY. IMPORTANT, LESS-COMMON SPECTROSCOPIC METHODS
---
CHAPTER TWENTY EIGHT - PHOTOCHEMISTRY
---
CHAPTER TWENTY NINE - POLYMERS
---
CHAPTER THIRTY - NATURAL PRODUCTS. BIOSYNTHESIS
---
CHAPTER THIRTY ONE TRANSITION-METAL ORGANIC COMPOUNDS
---
---
---